Tail-Wagging Testimonials from our pack & a letter from Zignature
To our fellow pet parents:
In a world filled with countless pet-related advertisements, blogs, and influencers, we understand how easy it can be to get overwhelmed. Knowing who to turn to and what is best for your canine companion is hard. At Zignature, we are passionate and committed to your pet's health and well-being. We don't need to try to scare you into choosing our products because if you're part of our Zignature-loving pack, you know that the product speaks for itself. Our solution-based philosophy was designed to fulfill the nutritional requirements of every dog, pet parent, and pack's busy lifestyle. See what this diverse group of pack members had to say about the benefits and changes they noticed in their dogs after switching to Zignature.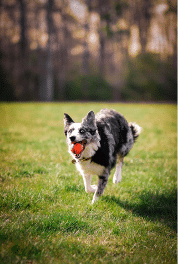 Meet Euphoria! She's a 2 1/2-year-old disc-loving border collie from Las Vegas, now living in Maryland! Ever since she was a pup, she couldn't seem to handle food like most dogs are able to. As she aged, her GI issues only seemed to worsen. After troubleshooting with the vet, trying medications, and having no luck, we were given some options. The best outcome was an elimination diet. I also wanted to allow her to have a variety in her diet, like chews, different proteins, and treats, if it was possible. Knowing her history with poultry and beef, I knew we would have to find a specialty food. A lot of the foods I found were unfortunately low in protein and fat, something I knew a high energy sport dog like Euphoria wouldn't do well on (and hadn't previously!). Then we found Zignature! After comparing ingredients and ratios, I immediately ordered our first bag. That was 5 months ago, Euphoria has never done better on a food, and I am so thankful Zignature makes these special foods. It has truly turned her life around. I can tell she's feeling so much better, she's back to being the energetic border collie she is and has a lovely coat again, now without any tummy troubles! Since switching to Zignature, we've been able to introduce 3 new proteins successfully, and because of all their specialty formulas, hopefully that list will grow! We are super happy to find your food and continue trying new formulas! Right now, I would say pork is her favorite flavor yet! -Euphoria's mom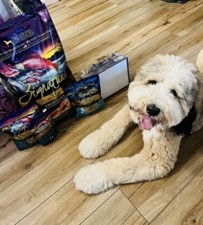 "I just wanted to say that your products are amazing and has helped my boy out tremendously. We posted and tagged you in our post last week or so. Whiskey is allergic to most proteins and grains. Ever since we switched to the salmon kibble and your treats, he's been doing amazing. If you ever need someone to promote your products, we would be interested for sure!"
-Whiskey's mom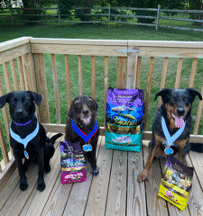 "He is 9 years old and has just rejuvenated himself, and I am totally convinced that it is because we started feeding Zignature dog food. I know the food has a huge impact on him!"
-Nicki Russel, K9 Aqua Sports Club
Best Dog Food For Picky Eaters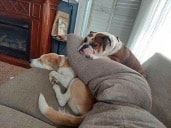 "When I say I have tried them all, my daughter works at a specialty food pet store, so I have tried every brand she had, then many ordered, custom made, ones as well. This includes both wet and dry food. Then her store got Zignature to sample, and my daughter got some. They loved the canned so much we tried dried and was blown away as they gulped it down, DRY! Never seen my dogs treat regular dog food like treats, but this they did. If you have incredibly picky eaters but big dogs (I have a Pyrenees/Lab Mix and a Bulldog), so no way to afford Fresh Dog Food, this is the next best thing. My Bulldog's coat has never looked better, and her skin allergies have seized to exist."
-Mojoyable80