We got the opportunity to partner with Muddy Paws Second Chance Rescue, a non-profit organization located in Omaha, Nebraska. The organization is a foster-based rescue that strongly believes that all animals deserve a second chance regardless of their breed, age and medical status.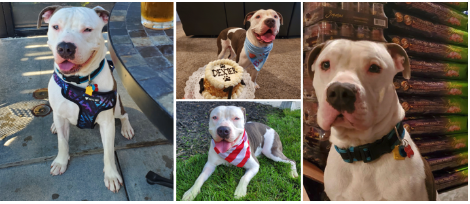 Volunteer coordinator, Stacey reached out to us because one of their foster dogs in particular took a liking to Zignature and would not eat any other food given:
"When one-year-old Dexter came into our rescue, he hadn't eaten in 6 days and was very sick. His foster mom fed him several brands of food, but he wouldn't eat any of it. Desperate for Dexter to eat, his foster mom let him try her resident dog's Zignature food. Dexter gobbled it up!! Not only did he love the taste, but it didn't upset his sensitive stomach. Thanks to Zignature, Dexter started feeling a lot better and his coat started to really shine! Muddy Paws reached out to Zignature hoping they would donate a few bags so Dexter could continue to thrive. Zignature immediately answered our call, and graciously donated enough food for Dexter and for our other foster dogs as well! We are thrilled to be able to offer our foster dogs this high-quality food that tastes great! On behalf of Dexter and all his friends at Muddy Paws, we thank Zignature from the tops of our noses to the tips of our tails!"
We got the pleasure of donating 80lb of Zignature dog food dry formula including 176 cans of Zignature formula wet food for Dexter and all of his other foster doggy friends.
Because Muddy Paws Second Chance Rescue is 100% volunteer based, donations are super helpful and needed to keep their awesome mission alive. Please check out their website to learn more about the Muddy Paws Second Chance Rescue and how to donate: https://www.muddypawssecondchancerescue.com