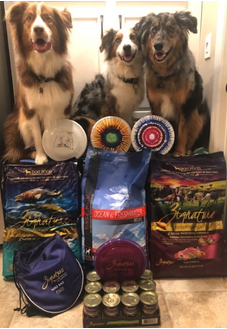 We all know how important good nutrition is for our animals. When we have animals who compete in sports competitions, it's even more important that good nutrition keeps them going and sustain them while they're competing and even well after the competitions are over to help their bodies properly recover.
Stella, age two, Penny, age six, and Copper, age five, are Blue Merle Australian Shepards and Red Tri-Australian Shepards. They are competitive disc dogs, also known as frisbee dogs. Disc dog competitions is a fun sport that just about any dog can do if he is toy driven and will do anything for his favorite toy, including running and jumping fearlessly to retrieve it!
Stella, Penny, and Copper travel all over the United States to compete in disc dog competitions for the past five years. Recently Penny and Stella qualified for the World Championships in Austin, Texas. They've also qualified for the World Finals for the last three years! Their dad, Steve Gannon, says his entire furry family has been enjoying Pets Global products! Even his cat eats Pets Global's cat brand, Fussie Cat, and is a big fan of the Fussie Cat Tuna & Fish Formula.
Copper enjoys eating the Zignature Whitefish Formula, while Penny enjoys eating Essence Ocean & Fresh Water Formula to help keep her weight on since she is so active. All dogs have been enjoying eating Zignature for the past three years and recently started eating Essence.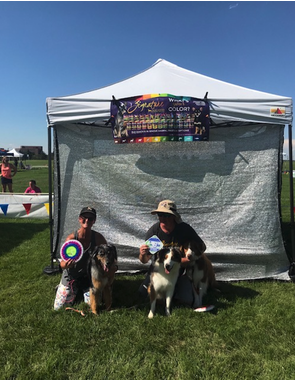 We wish them the best of luck in their upcoming competitions!