Learn about Pet Food Nutrition with Dr. Quest.
Dr. Quest, Doctor of Veterinary Medicine (DVM)
Dr. Quest has over 11 years of experience in clinical Veterinary practice and over 15 years of experience in the pet food industry. 
He graduated from the University of Missouri with a Doctor of Veterinary Medicine degree, and has been working in the pet food industry developing new products, contributing to nutrition formulation, and doing clinical studies since 2004. 
He is an active member of AVMA (American Veterinary Medical Association), MVMA, FoVD and Phi Zeta Veterinary Society.
Can dog food really make a difference?
Learn how Zignature makes dog food
nutritious and highly palatable.
First, let's get to know your dog.
Is your dog happy, joyful, and full of energy?
A dog's ability to taste is roughly a fraction of a human's. However, it's their sense of smell that is up to one million times stronger than ours!
Smell and taste are very closely related, and dogs can taste foods through their sense of smell. That's why dogs are more interested in foods that smell stronger, for example, protein packed foods.
So, if something smells good to your pup, it's going to taste good to them, too!
Doesn't eat dog food, but eats dirt and rocks.
Sticks to one flavor and one brand, wouldn't even sniff something else!
 Will sell their soul for human food.
 Will eat anything that smells like real meat, poultry, or fish.
Dog food should feature real meat, poultry, or fish as the first ingredient.
Dogs are carnivores and they have evolved to get dietary protein, from animal, poultry, or fish sources.
Zignature Formulas have quality red meat, fish, or poultry as the first and second ingredient. This makes it not only nutritious, but also a great tasting, highly palatable food.
If your dog's a picky eater, consider that they'll more or less eat anything that smells like meat or fish. So, by choosing food with real meat, poultry, or fish as the first and second ingredient, it will increase your chances for success in finding their new forever food!
What are they currently eating? Take a look at the ingredient list printed on
their current bag of food.
What protein source is listed as the number 1 ingredient?
Something else is
ingredient #1
Doctor Quest recommends rotation feeding.
"By changing up the different types of proteins in your pet's diet with a systematic approach, you can help improve your pet's overall health. This is because different proteins can offer different amino acid profiles," says
Dr. Quest, DVM. 
"Amino Acids are the building blocks of protein, and varying amino acid profiles (varying high quality proteins) can decrease the chance for long term diet inadequacies that may result from feeding the same diet all the time."
With Zignature, rotation feeding is easy.
If your pup has specific nutritional needs and is required to stick to only one type of protein, they still have options thanks to Zignature!
Select Zignature formulas have similar nutrient profiles, making rotational feeding easy. Each of our protein categories have several options to choose from. For example, within our fish protein, your pup can choose from tasty options like trout, salmon, whitefish, or catfish.
Rotation feeding is the picky eater's dream!
How often do you introduce a new food to your pup to make their diet interesting and more enjoyable?
I try to feed my pup something new at least once
a month
Not as often as I'd like since
my pup needs a certain
type of diet
My pup rotates their diet on their own with human food from the table
"Go low-glycemic," says Dr. Quest.
"Feeding dogs food that have a low-glycemic index has certain health benefits, because their metabolism has evolved to gain energy from animal proteins and fats, not carbohydrates." -Dr. Quest
At Zignature, everything we make is made without commonly used binding agents that are high in simple carbohydrates and starches.
Instead, we only use low-glycemic carbohydrates such as peas, chickpeas, oats, quinoa, and millet, which also provide valuable fiber.
What comes next after protein on the ingredient list?
Usually, it's the next most important ingredient.
What carbohydrate source is used in your dog's food?
Commodity grains like white rice, wheat, or corn.
High-glycemic carbs like white potato or tapioca.
Low-glycemic carbs like chickpeas, peas, oats, quinoa or millet.
Protein, backed by protein.
In all Zignature formulas, our real meat, poultry, or fish source is backed up with a high-quality protein meal to supplement the necessary high protein content of your dog's food and guarantee a high level of crude protein on guaranteed analysis.
Let's talk about protein. Take a look on the back of their bag of food. On the guaranteed analysis, what is the level of crude protein?
What is the level of crude protein?
Most commercially available pet foods are loaded with high-starch carbohydrates as their first or second ingredients.
At Zignature, we only use healthy, low-glycemic carbs. In Zignature Original, we use low-glycemic carbs such fiber-rich chickpeas and peas. In Zignature Select Cuts, we use low-glycemic, fiber-rich oats, millet, and quinoa.
Next, let's see how much carbohydrate your dog is ingesting with their
current diet. How do you check? It's easy if you know the secret formula!
Using the Guaranteed Analysis on your bag, you can find the estimated
carb levels in your dog's current diet.
81% - Protein % - Fat % = Carb Level
Similar to humans, if a dog gets all the proper proteins, carbohydrates, and essential vitamins & minerals from their food, they should be happy and full of energy. Zignature supplements all of its formulas with our vitamin and mineral pack that is designed exclusively for Pets Global in a European plant to make your pup's food highly nutritional, complete, and balanced.
Did you know that the level of energy and even the mood of
your dog directly depends on what they're eating?
Simpler, limited ingredient recipes that are packed with proteins are more appealing to picky eaters:
Absolutely, of course I knew that!
Now, learn how proper nutrition can help your dog lead a healthy life.
Meat-First Limited Ingredient Philosophy
Learn how proper nutrition can help your dog live a healthy life.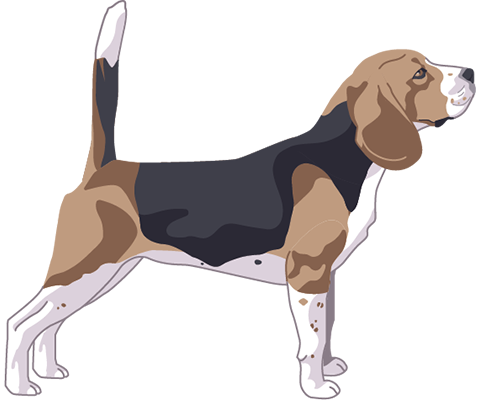 "Wholesome ingredients are a great source of fiber, which can help maintain healthy digestion."
-Dr. Quest
"High-quality animal or fish protein diets, which are rich in phosphorous and iron, help support muscle development and growth."
-Dr. Quest
"Animal protein sources like red meat, fish, and poultry with added Taurine & L-carnitine can help promote heart health."
-Dr. Quest
"Meat first diets can benefit and help maintain bone health."
-Dr. Quest
"A complete and balanced food provides vitamins & minerals that can help to promote healthy brain function."
-Dr. Quest